A Viking adventure on the Norweigan Fjords
Last year I married a Dane and with it (I like to think anyway) I became a tiny bit Viking myself. So of course I needed a Viking initiation trip, so I headed north to explore Norway, hear tales of my Viking ancestors and be fierce and brave to take on a Norwegian winter!
After a night in Oslo, we took the short flight to Trondheim, a small historic city perched on the Trondheim fjord. Having seen the colourful images of Nidalva, we headed straight for it and were not disappointed. So much so, that we set our alarms early the following morning to see the sun rising over the colourful buildings. The town is easily manageable on foot, without so much to see, it's a town to experience, plenty of cosy cafes and bars to take in the student feel of Trondheim.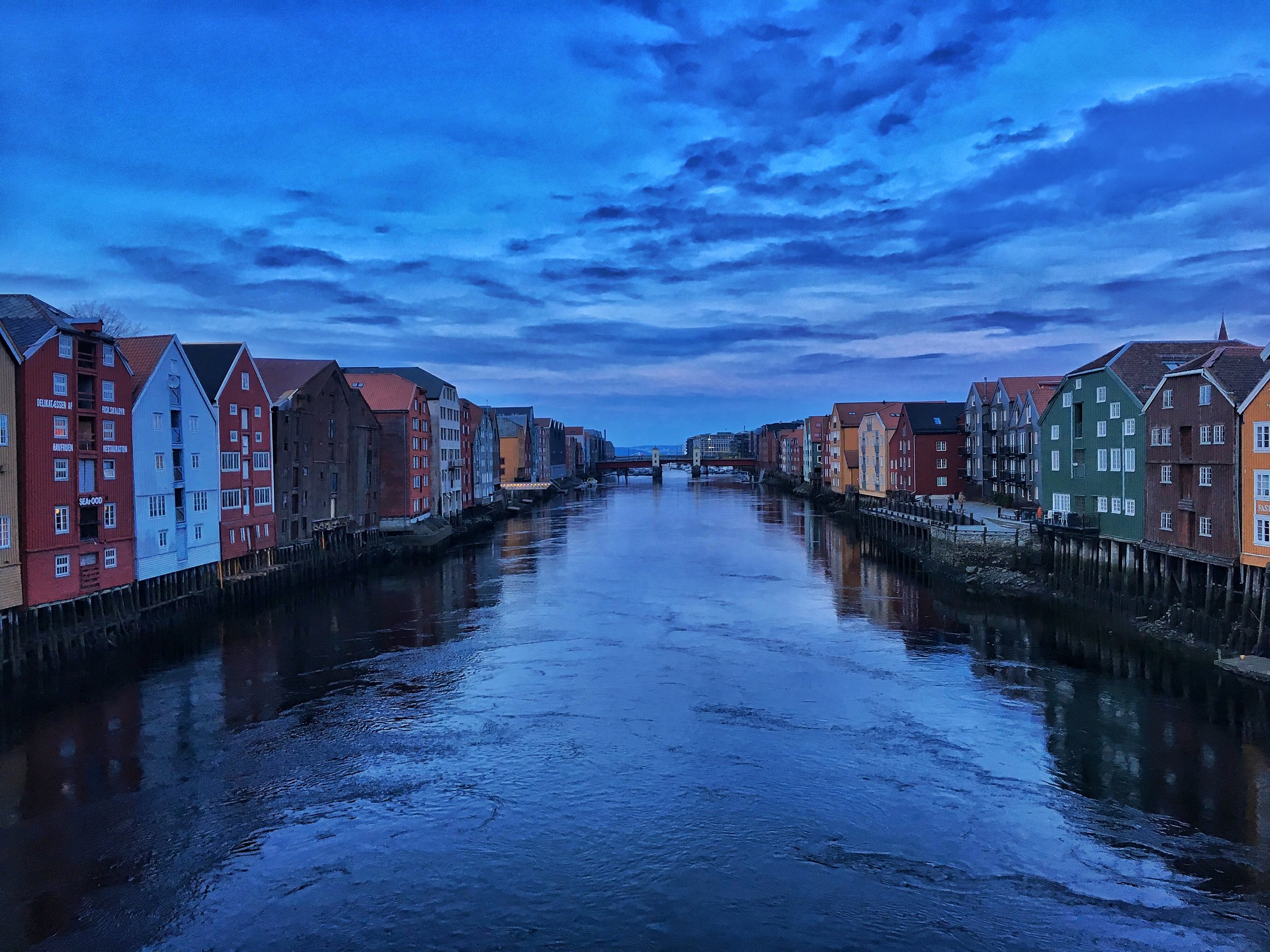 A special mention needs to go out to Credo, which is still being talked about as one of our best meals ever. I'd read about the 3 or 5 course menus, but was blown-away when we arrived to hear that it was actually a 21 course menu! All paired with delicious wines and beers which perfectly match the delicious Norwegian fare and very Scandi-chic interiors. An absolute must for any visitor to Trondheim.
Had we gone home at the point, we would have been full of praises for Norway, however our adventure was only just beginning as we met the Hurtigruten MS Nordlys in Trondheim for a 4 night cruise north through the stunning Norwegian fjords.
Waving goodbye to Trondheim, we were surrounded by incredible scenery everywhere we looked, lighthouses perched on the peaks of the fjord, tiny secluded houses, and of course the huge mouths of the inviting fjords, I felt so lucky to be on a boat where all I had to do was look and enjoy this wonderful scenery.
Travelling on the Hurtigruten really is a great cultural experience, used by locals as a form of transport, travellers are meanwhile treated to daily talks by the expedition team on topics such as The Fram, king crabs, Viking life and daily updates on our progress into and through the Arctic Circle.
I jumped off for a winter hike in Bodo, where Norway really showed what it has up it's winter sleeve, despite a raid of the (slightly overpriced, come prepared) shop on board the boat, there were not enough clothes for this, but breathing in the crisp air and exploring the Viking landmarks was well worth it.
To recover from the harsh Norwegian winter, an evening was spent in the Lofoten Islands at a Viking Feast arranged by the Chieftain and the Lady of the House who were sacrificing to their Gods praying for the sun to return. Washing the feast down with mead and dancing around the fire, it was a brief opportunity to really be transported back a few hundred years.
Next stop was Tromsø, for a historical walk through this Arctic Circle town where there is so much to learn about expeditions to the North Pole as well as Svalbard. The highlight of this town for us was the most northern brewery in the world which provides a great excuse to sit and enjoy their local brews with locals on hand to recount tales of their Viking ancestors.
Arriving at the Northern Cape, we explored local fishing villages, visiting some homes to find out more about life in the North over coffee and homemade cakes, and exploring the little fishing boats scattered around the harbours.
Our final stop was Kirkenes on the Russian border where the boat turns around to continue along the same route heading south. As it is a working boat, the boat docks day and night, but the timings work well to have different daytime stops on the way back so we were sad not to continue the route south, but of course it's always nice to have a reason to go back.