Staying warm at the Snowhotel
Finishing a north bound Hurtigruten trip in Kirkenes, it would be wrong not to spend a night like a true Viking at the Snowhotel. The practicalities can come to interfere with the novelty and after a few hours you might find yourself, if you're anything like me, questioning what kind of a Viking you are. Luckily they have a solution that can allow you to enjoy all that the Snowhotel has to offer.
Arriving at the Snowhotel, you are greeted by the howling of over a hundred husky dogs excitedly competing to be chosen to run the sleighs. The Snowhotel is rebuilt every December, taking weeks to construct and inviting snow sculpting artists from all around the world. The entrance is dominated by the huge bar area complete with ice thrones placed around the edge. The extending corridor leads to the 20 bedrooms centred around a huge slab of ice - the bed! - all designed with different themes from Vikings and Pirates to Marilyn Monroe, and all incredibly impressive. The rooms here form part of a tour available each day until 5pm, so those staying are not allocated their room until this time.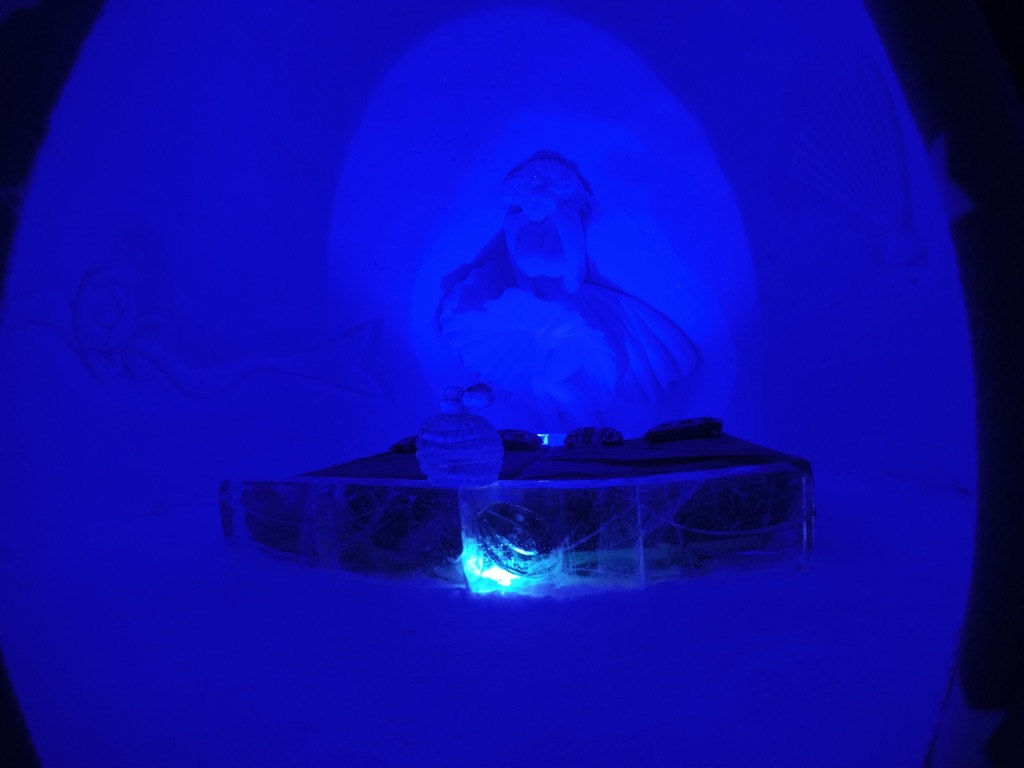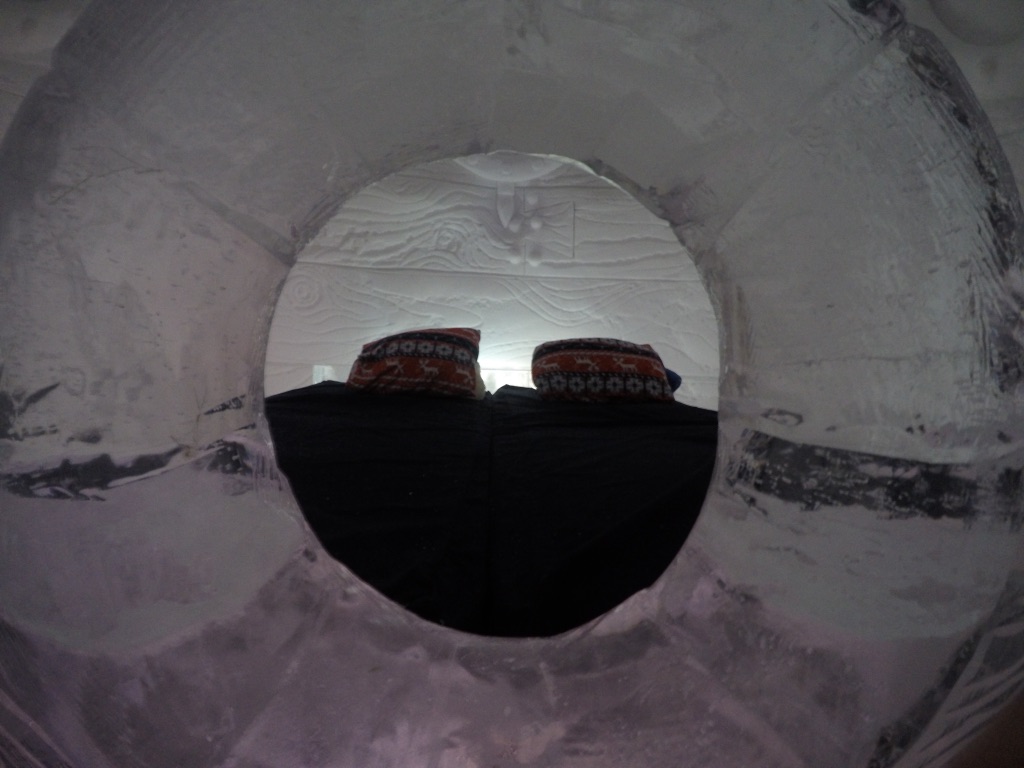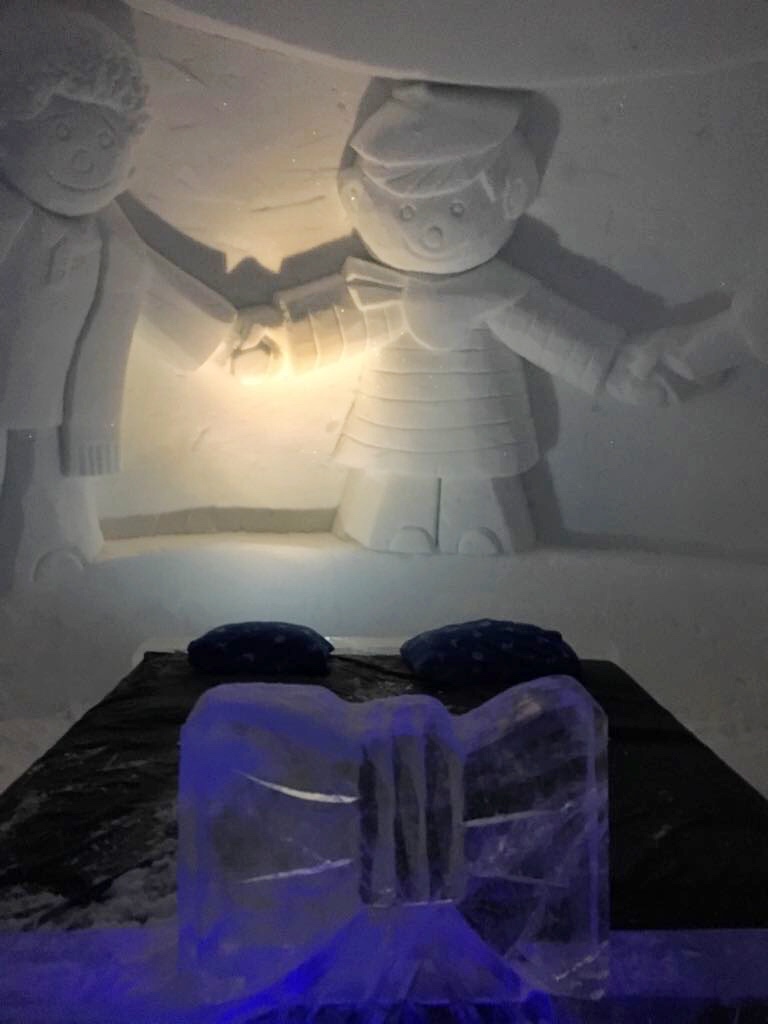 Having contemplated hard on the idea of sleeping on a slab of ice, I decided instead to book one of the cabin rooms, inspired by the 'gamme' huts which are found in the wilderness of the Sami areas of the Arctic. Underfloor heating and an exclusive bathroom, these cabins, designed by Swiss architects, feel more like a Swedish sauna than a snow hotel and having just heard that the rooms in the main hotel need to be kept around -9 degrees all night, I was more than happy with my decision.
The hotel has activities to keep everyone busy. Gabba restaurant has an open fire and is a good stop to warm up while you decide how you're going to spend your day. Many opt for a ride on a husky sleigh, which the dogs are more than happy to assist with. I decided instead to go a little further on a snowmobile safari. Jetting off across the frozen waters of the Jentofbulkta Sea and through some forests, in the two hour ride we covered quite some distance close to the Russian border, passing small cottages and getting a real taste for what life is like living high up in the Arctic Circle. With night falling, we headed back for base and chilly from the ride, it was great to have a warm winter cabin to head back to and heat up before dinner.
Dinner takes place in a large dining room along with all of the guests staying the night and is a great chance to find out more about other activities that took place during the day and more importantly, how they were settling into their snow room. Staff demonstrated during dinner how to get into bed, which surprisingly involves stripping down before getting into a sleeping bag so that your body heat is able to activate the warming technology. Apply a balaclava and if you're face is still suffering, rub the end of your nose. The sauna would open at 6am to recover from the night. A fun experience, but I'm much more for the cabin (as were many of the snow guests who enquired, too late, if there were any left!).
After dinner the ice bar opens where shots are served in ice glasses and it's obligatory to take your drink and smash your glass down on their counter, all fun and games until they run out of glasses! But the early end to the evening is a good opportunity to head out in hunt of the Northern Lights. Sadly they didn't appear for us this time, (and we got up throughout the night to check) but that didn't take away from the fantastic experience we'd had living like Vikings high up in the Arctic Circle.
Breakfast the following morning was dominated by weary eyes and tales of battling to stay warm, so I kept quite with my story of it actually being a little warm in our cabin and instead reflected on how it's possible to enjoy the novelty of the Snowhotel while still having a good nights sleep.