Chilled out Chiang Rai
Chiang Rai oozes the much-loved, chilled out vibe of northern Thailand, and while it isn't packed full of sights, it's atmosphere alone makes it well worth a visit. Less touristy than it's big sister Chiang Mai, Chiang Rai is perched close to the borders with Laos and Myanmar, with a small sleepy centre perfect for some relaxation away from the hustle and bustle of Bangkok. Most of the life in the town takes place close to the unmissable golden clock tower, which doubles as a traffic roundabout, designed by the same man who created the city's White Temple. Chiang Rai, I would find out, was once a hub for opium trade, but even today it's strong Lanna identity becomes apparent as you begin to explore it's curiosities.
Wat Rong Khun
Most visitors to Chiang Rai are lured by the spectacular beauty of Wat Rong Khun, or White Temple, as it is more commonly known. Designed in a modern Buddhist style by artist Chaloemchai Kositpipat, the pure white Buddhist temple is steeped in painstaking detail, with the ornate facade and path leading to the entrance being flooded in sculptures, which are deeply symbolic of desire, greed and suffering. The intricate designs are unlike any other making this temple unique, even in Thailand, and a must-see even for the most templed-out of visitors.
Baan Dam Museum
30 minutes from the White Temple, the Baan Dam Museum, or Black House, is like a dark twisted sibling of the White Temple, but not a religious attraction. Once the home of the late Chiang Mai artist Thawan Duchanee, it now forms a legacy to his work, and has been met with sharp criticisms from conservative Thais. So what was all the fuss about?
40 small wooden houses designed in a gothic Thai style are scattered across the gardens.
But stepping foot inside, comes a stark contrast to the exteriors, packed full of intricately carved woodwork and animal remains displayed with black thrones make of antlers, skins hanging from beams and an entire elephant structure - the whole place filled with a feeling of death. While certainly mysterious and not the most appealing attraction for vegetarians, it's believed that the animals all died of natural causes. The vibe is dark and while seemingly sadistic, feels surprisingly peaceful and far more serene than the more popular White Temple.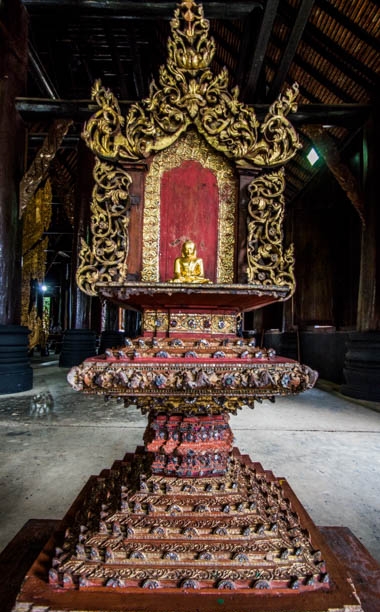 House of Opium Museum
For those, like me, who have no clue about the crazy history of opium throughout Asia and specifically how it was smuggled across the boarders of the three countries bordering the golden triangle, then this is a museum for you. Although slightly outdated, the museum is scattered with interesting information and you will definitely leave knowing a lot about opium.
The Golden Triangle
Looking out over the water, you look to both Myanmar and Laos. While it is an interesting and unique spot to look over, there isn't really that much to see, which is probably why the Thai government have spiced the area up with some elaborate decorations. If you have your passport you can jump on a boat that will take you to a little market on the Laos border.
Hill Tribes
Visiting some of the hill tribes in the north of Thailand can be quite a controversial topic. Our guide took us to the Karen Long Neck Hilltribe and there wasn't much say in whether we were going. Some believe this particular tribe to have an element of 'circus' where the children are made to perform for their visitors, others think that purchasing the handmade goods at the village may help the people here survive - for me it was a bit of both. Many of the Karen tribe fled to Thailand as refugees to escape conflict in Burma, although not granted residency in Thailand, the sale of their impressive woven goods provides an important income.
There are a lot of flights every day between Bangkok and Chiang Rai. Many people decide to incorporate it with a visit to Chiang Mai, about 3 hours away by road.